to all the men ive loved before . pt1
scrawled 9.05.2005 by miss.abi |
E-mail this post

---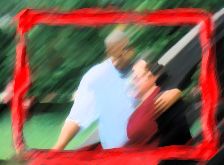 you.
me.

spinning dance floor
pulsing bass
friday night in the quarters
your face in the crowd
acting like water on fresh paint
swirling the colors of the crowds' canvas
into muted blurs
the two of us
vacuum-like suspension
until all that remained was

you.me

we
moved quick.
i fought it
you fought my fighting
harder.
but softer too.
with
roses on pillows
jill scott on stereo
breakfast in bed
picnics in the rain
'you move me'
it was just

you.me

phonecalls til dawn
drives through the bayou
and by you
i stood
with love on my lips
we made
plans.
you plus me
child makes three
said you wanted another.
dreamt in white
of dresses
picket fences
said
'let me get this money bay
so we can start building'
forced departure
for educational advances
we started planning
for

you.me

then
separation anxiety
let to
ill-fated
disneyworld vacation
i stopped believing in magic kingdoms
threw
rocks at our castle
tore bricks from foundations
tried to make it crumble
but you
sealed every crack
patched holes
to keep us from spilling
persisted
in building life for us
for

you.
me.

we
became
electric circus
you played clown
before a cold audience
juggling
my problems
your problems
til our problems
flew too fast for you to catch
and you
broke.
called my call
before I called
to tell you
not to call
said

'bay don't be scared
i have faith in us
we can make it'

but
my hands were full
carrying too many suitcases
couldn't let go
to help you
hold the pieces together
so i missed
your call
rather
let it go to voicemail
didn't want to hear
your words
your tears
your confidence in us
when
i had none in myself
so
i made
you
separate from
me

and i was wrong.
i'm sorry.