this week on....
scrawled 11.06.2005 by miss.abi |
E-mail this post

---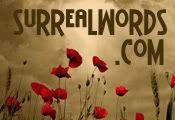 11.2.05-11.9.05

This week's writing exercises:

Bio-Poem: I Seek | Senses in a Box: Surreal Words | Descriptive Language: Things Fall Apart
The Small Space: Urban Lyricism | Creating Poetry Art: Love and Loss | Choose Your Own Adventure: Erotica

The Newness in Built To Spill

Want to make someone do something? Check out I dare you! and name your challenge.


Heard the latest in Third Eye Stage?

Check out the first surreal.words podcast show

and if you are audio-capable, get in on the next show.


Whats goin on in Hip Hop

try to topple the reign of current champ VERBZ in this weeks hip hop quiz

or speak your mind on whether or not gangsta rap killed hip hop's creativity


Puff Puff

feelin the need to just flow? hit up kiss bliss or mic check or any of the other ciphs in Puff Puff Pass and keep the rotation going.


The Writers World

looking to get your stories published? take a look at the November publishing opportunities, with current information on the many non-fiction and fiction publishing opportunities that are available out there.

and in honor of National Novel Writing Month, check out the Novel in a Month challenge that just began.

and in Urban Lyricism you can check out the November Poetry Publishing Opportunities if you are looking to get one or more of your poems published.


Relationship issues in Lost in Translation

share your definition of what love is and what the word means to you. we cant talk about it until we define it, right?

and sometimes its not even about love. what would you do in this situation?


Current topics in Of Water and the Spirit

always checking the web for your horoscope? why bother when you can get it here, complete with the daily cosmic calendar.

find out what your temperament is by taking the Keirsey Temperament Sorter and then share your results to see who you work well with.


Arts and Entertainment in Eternal Sunshine

want to find out what came out this week? check out these new releases to discuss what's opening at the box office.

have a poet you would like to write with? have a couple you would like to see write together? take a look at this thread and get started on or suggest a collab.


Discuss Community and Society in the Famished Road

the November Writer's Work Information Opportunities thread has awesome info on ways to affect positive change in the world around you… through writing.

or speak your views on just one of many examples of ignorance that we are striving to change.