immaculate possession
scrawled 1.26.2005 by miss.abi |
E-mail this post

---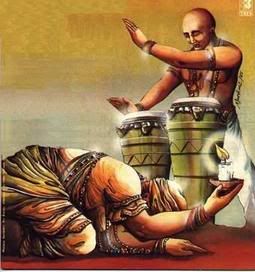 Great Voodoo King, i
dance the forbidden dance for you
body wrapped in strings of white and yellow, i
pound the bata rhythms
on the drums of my thighs
calling you to me and
feastin' on bananas so i can
partake of your essence.
your evanesence
leaves me prostrate.
bent and spent, yet
still i invoke thee
oh powerful warrior
please come possess me
with your
thunderclaps of passion
make me dance in
rhythms of slow motion
swim to the depths of my ocean
and
send our spirits sailing
on waves of humidity
Holy Ifa King
accept my humble offering
of flesh. possess
my body and
make me servant to your desires.
i'll walk the
7 steps down 5 paths
to your kingdom
just to
slave at your feet.
bathe you in my
rivers of chamomille and honey
Oh Great Voodoo King...
I invoke thee....